Which words would you associate to this new chapter called Erasmus? Freedom, friendships, new places, different cultures, adventure. Now, let's put them all together and pick a starting point for creating new memories. Let's see… How about Ålesund?
Two weeks after arriving in Volda and having Ålesund just a few hours away, it was about time for me to get some adrenaline rush. We had to go there anyway for the residence permit, so why not make the most out of it? Couchsurfing for 4 people: checked! List of things to do and see in Ålesund: done! A backpack, some clothes, a book for the road and some souvenirs from Romania. Let's go!
Welcome to Ålesund
As I had already got used to Norwegian weather, it wasn't a surprise for me to see altogether in a single afternoon snow, clear skies, cloudy weather and even some rain. We started walking around and discovered on foot most of the things this place has to offer. Great Art Nouveau architecture and colorful houses, small hidden coffee shops here and there at the city center, tourists and fishermen all mixed in the harbor, seagulls escorting us above our heads.
We made our way to Fjellstua, one of the first Norwegian words that tourists try to pronounce when coming to Ålesund. 418 stairs to a windy little heaven, at the top of a hill that shows a 360 ° panorama of this city. What's next? So far that's what everybody else could tell about Ålesund. But we were going to meet some of the people that lived here!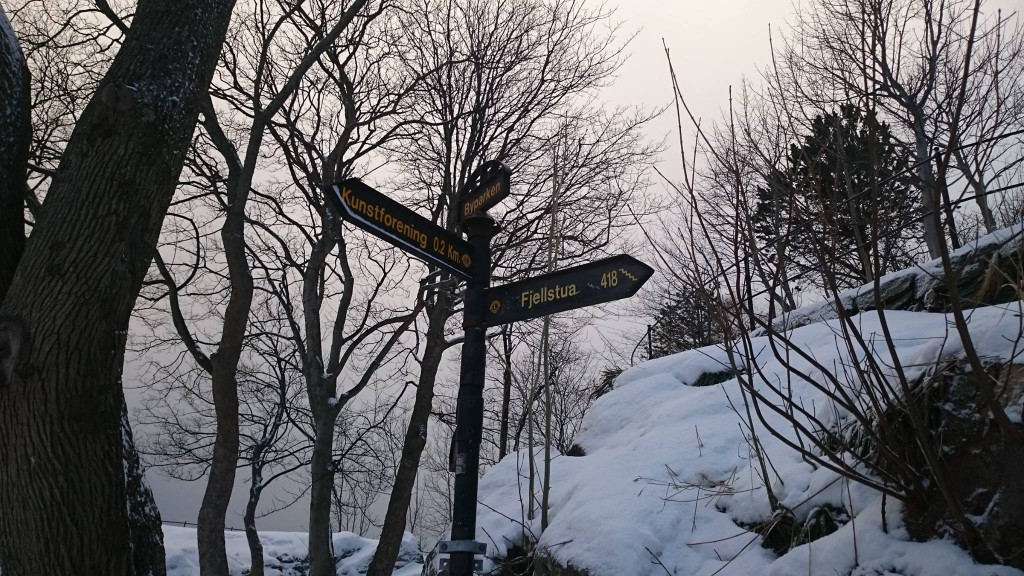 Couchsurfing – one of the best websites ever
For those of you who have never heard of it, this website gives you the perfect chance to meet locals and to get to see the other side of the places you're travelling to, as it's through somebody else's eyes and recommendations. You simply need to create an account, fill in some accurate information and search for people that can be your host. This way not only you save accommodation money, but also get the chance to meet inspiring people – people that have different points of views, people with many stories to tell, people that will be better company than any tourist guide you might have found!
Back to my story. Remember when I said accommodation for four? We ended up being six people. Luckily three Couchsurfers answered my request on the website so we met Alex, a Polish guy and Gytis, who's from Lithuania. Also, we were planning to meet a Norwegian, Glenn, on the next day. Later we found out that these guys knew each other, for Ålesund is not such a big city, so after an amazing vegetarian dinner made by our first host, we moved into the second home with Gytis, where we played games and laid down by the fireplace.
The next morning brought us a perfect sunrise above Ålesund – first one I had seen in Norway so far. We changed our plans due to our hosts' stories and tips and tricks about the city. Plus, the fact that they had a car made it so much easier! Our first stop was at Skjonghelleren, one of the largest caves on the west coast of Norway. We had the mountain on our right side and the ocean on our left, the snow getting up to our knees untouched, and the hot tea offered by our host at the end of the hike was the cherry on the top!
Next, it was the Molja lighthouse. I was very surprised to hear that there was a room carefully designed inside of the lighthouse that could be rented by tourists. Well, that's what I would call being one with the ocean! Later we spent a few more hours in a glass factory where you could actually see how they made all kind of colored bottles and heart shaped glass objects, and then an antique shop, glass objects, and then an antique shop, where many stories hid behind even the smallest troll figurine!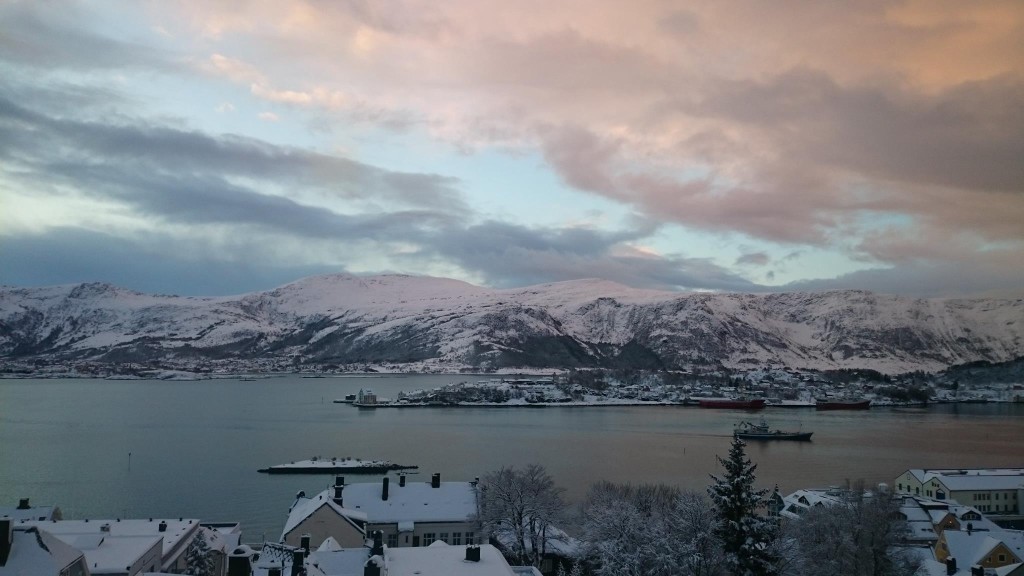 It was just one more hour until our bus left Ålesund, so we met for a cup of hot chocolate with Glenn who had agreed to meet us in our trip (through the great website I was telling you about). Thanks to him we finally got to try sveler and brus, Norwegian pancakes with brown cheese and some typical juice. Only 10 more minutes to go. We left the cafeteria on time, but by the time we figured out which was our bus, the 101 to Volda had left right in front of our eyes!
Luckily Glenn saw us, and we started a race to get to the next station by car before the bus arrived there! We managed to catch it, and just like the other hosts, we gave him some of the sweets and souvenirs that we had brought.
Adventures, adventures everywhere
On my way home I was already planning another trip to Ålesund. We still wanted to see the Sunnmøre Museum, this place with 50 old houses and boats that shows how life was like up until the early 1900 and maybe Atlanterhavsparken as well, the aquarium of the city, and, of course, one extra day with no plans, because we all know that spontaneity makes the best memories!