Things are not always what they seem. What is hiding behind a small blue boat on the harbor in Volda?
When I saw it under the bright sunlight on a perfect, warm day, I immediately wanted to go inside. I have always loved boats and admired all the ones floating by the harbor, but this one attracted me right away. I was contemplating it with my friends, thinking about jumping inside to have a quick peak, when a man sitting inside saw us. One of us bravely asked if it was possible to take a look. After a moment of hesitation, the man vanished for a second and immediately came back with a ladder.
– Welcome to my boat.
«How crazy is this!» we all thought, but in reality we had no idea how lucky we actually were… Because it wasn't a regular boat that we stepped into. We were inside Epos, a floating library. Yes! A library on a boat! Who knew that those stairs would lead us to one of the rarest boats on the planet?
As we entered, we saw a large, bright room packed with bookshelves. There were stacks of books carefully piled everywhere. At first sight, most books were children stories, but as we looked closer, we discovered all kinds of books you could imagine. A librarian, smiling at our excitement, explained that we could take any book we wanted, and return it next time they came around.
Feeling intrigued and like Robert Fisk, I talked to the captain of the ship, Svein Ivar Vinnes who is also the owner of Vinnes Skyssbåtservice AS. It turns out that he bought Epos about 12 years ago to fulfill his childhood dream.
– When I was a little kid, I visited this boat whenever it came to my home place.
The floating library is a long-existing tradition in Norway. During the tours, the boat makes around three stops daily in small communities along the fjords of Møre og Romsdal and Hordaland. It is special for children, who are waiting for the boat to come around so they can get new books, but also for the parents, who enjoy showing something new to their kids, and for random guests who end up wandering in the library like we did.
Saken fortsetter under bildet.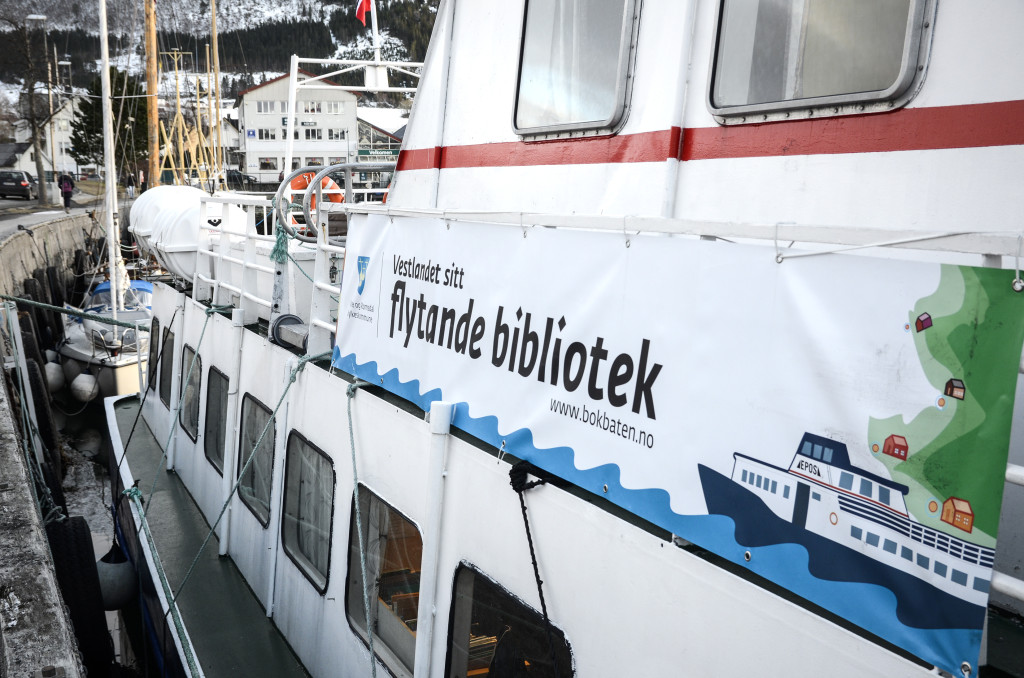 But that's not what makes Epos special. Besides being a place to exchange books, it also holds various performances, stand ups and presentations for kids that come aboard. The boat becomes a small fairytale to them.
– This combination between library and theater is the only one in the world, Vinnes says.
– That's special.
Hilde Merete Gjessing, one of the two librarians aboard, agrees with Vinnes. She has been sailing on Epos since 2009, and this is her last tour. For her, the library is about much more than a place for borrowing books.
– This boat brings stories and entertainment, she says.
– For many small communities, this is the only thing going on during this period.
Ole Andre Lehre, the new chef in the boat, says that this is the best job he's ever had.
–I get to travel along the coast, meet new people, see their cultures and differences, he says.
– Every day is a new day. And when the children come, it's like a celebration.
Later that evening, long after we said goodbye to Epos, I realized that the chef was right. Every day is a celebration, with different reasons to be happy. For some people, happiness is about finding the perfect book. For others, it's seeing the blue and white boat floating on the horizon and finding its way to people's hearts.
We complain too much and feel unhappy too often, but what we really need to remember sometimes is how lucky we actually are to have even something as simple as a library. That's for sure one of the lessons I learned that day. And also, I understood that you don't have to be someone great or rich or powerful to make a difference. If all you can do is to make a child smile, you can already be proud.
Unfortunately, Volda is not usually on the route of the boat, because it is a bigger town that has its own library. We were unbelievably lucky to see the boat on that day, because the crew just decided to stop by here for a break. So keep looking, and maybe, one day you will see a small blue boat with a small ladder somewhere by the harbor.