Going to new places, experiencing new cultures and paddling through gushing rivers are few among the many aspects of whitewater kayaking and Norway provides all of it and much more for this kayaking enthusiast. Nicole Dubé found her home in another country.
A bag full of rope, a first aid kid, a knife and a split paddle are the four essential things that Nicole Dubé packs when she goes on a trip. The 25-year old Canadian travelled to Norway for one reason – whitewater kayaking – but she ended up staying for more than just the water.
– It's the best place in the world for whitewater kayaking, she explains with a big smile on her face. She fell in love with the country, its people and rivers when she first came to Norway in 2012. She plans to make Norway her adopted home soon.
The Onset of a New Adventure
It all started out with an internship Nicole did for a company called Kayak Voss, located in the eponymous town at the Norwegian West Coast, Voss. A district virtually surrounded by great scenery, people and with incredible kayaking spots always around the corner, made her want to never leave. It helps that Norway's working conditions enabled the perfect balance between working, living and kayaking here. Her eyes start to sparkle when she says:
– It might sound funny but I feel like I'm almost made to be in this country.
Learning Norwegian was what opened the door to a long term residency for Nicole. She now studies Norwegian language and civilization for inter-national students (NIS) at the Volda University College. After finishing the NIS program, Nicole hopes to study to become a teacher in Norway.
– I think you have to work hard for it but it's pos-sible, she says.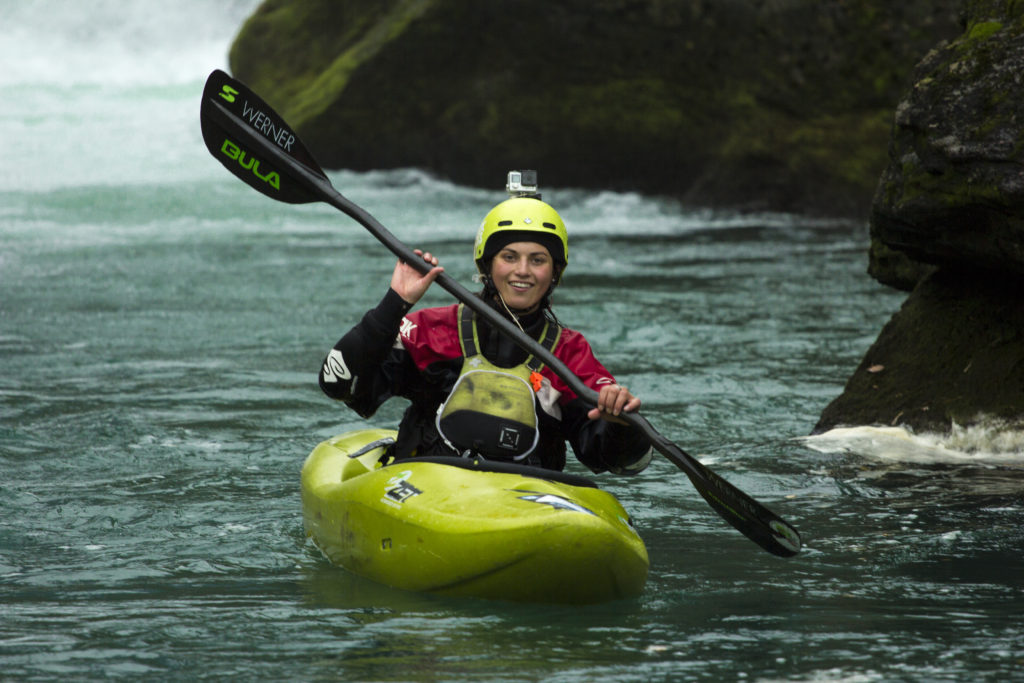 Challenging in Many Ways
The source of her strength and motivation is certainly whitewater kayaking.
– I become sad and miserable after a time of not kayaking, she says. In her eyes it's the best extreme sport because it's challenging in many ways.
– The combination of mental, physical and technical strength makes the sport unique. At the same time, you have to look out for each other and be aware of the skills of each person in the team. You are in a way co-dependent. If something happens it happens fast, you'd have to know how to react.
Nicole's First Glimpse into Something Special
When Nicole was 16 years old, she went to an outdoor shop in her home town Ottawa, where a poster of a kayak course caught her attention.
– I joined the course and after the weekend I was like whoa, this is it!
It all began from there. Since then kayaking turned into her greatest passion. She now works part-time as a kayak instructor and recommends everyone to take a beginner's course and put themselves into this completely new situation of being in the river in basically just a «plastic Tupperware». From her experience, beginners usually succeed and overcome their expectations. For Nicole, kayaking is also about experiencing the nature and about the matchless feeling of being in places where only a few people have been before, somewhere in the middle of nowhere. So far she has travelled with her kayak to Chile, Nepal, Austria, the United States and, of course, Norway. Still, there are many more places on her list.
– Kayaking makes you tough and grateful. You really learn to appreciate small things and it always reminds me of how lucky I am to be healthy and in good condition. It definitely builds character.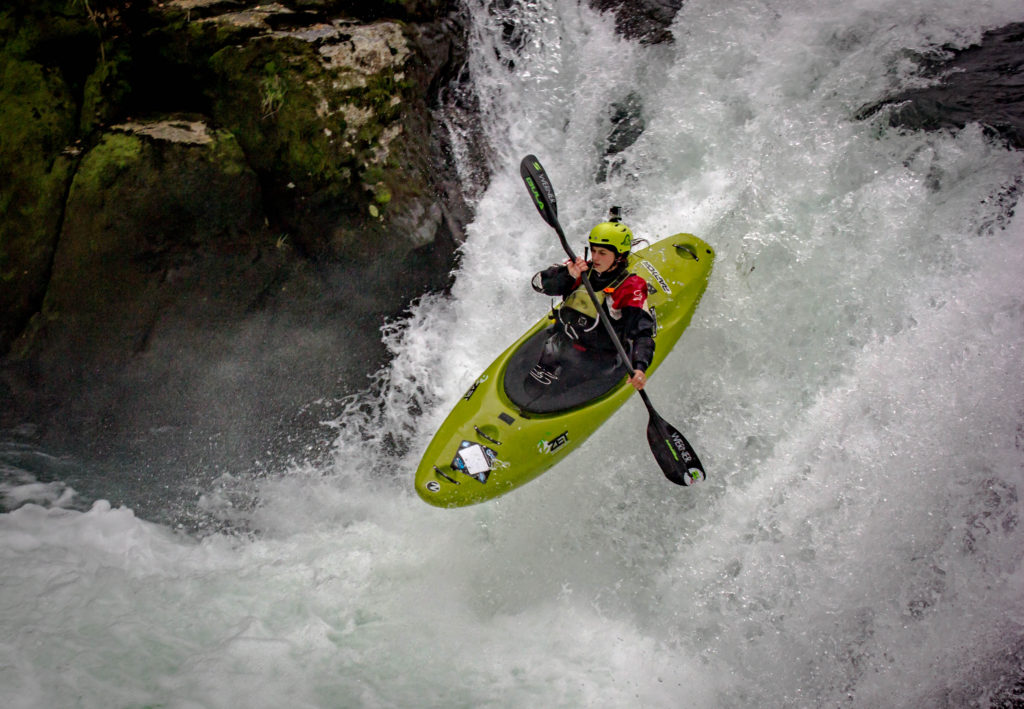 Nicole's Upcoming Adventures
Right now she is focusing on the Adidas Sickline World Championship in Austria, to be held in October. It will be her second time at the championship, but for her it's more about representing women in extreme sports than winning the competition. For the X2 extreme sports festival here in Volda next April, Nicole would love to practice more and do well as she she is going to represent Volda and the University College. Nevertheless, it's still a hobby and all about the fun of it.
– I love the challenge in the competition but I'm not expecting to win at all.
Also there are a lot of other things the 25-year-old loves to do. Camping, skiing, cooking food and being with friends are only a few other activities the open-minded and always smiling Canadian enjoys. What does she miss about Canada? Nicole is laughing.
– I miss the cheap beer, the warm summers, certain foods and my family. But I don't miss the Canadian lifestyle and the city life much.